The Restaurant Opportunities Center of the Bay (ROC – The Bay) is a membership-based worker center and advocacy organization that organizes and trains hundreds of restaurant workers. They also advocate for improved labor standards and higher wages and actively work with high-road employers to implement equitable and dignified workplace practices in restaurants.
ROC – The Bay operates CHOW, an educational program that provides in-depth training for the development of restaurant skills at no cost for employees and employers. ROC offers five FREE classes – Service 101 and Bartending 101, for those new to the industry. Our advanced courses, Serving & Wine 201 and Bartending 201 teach technicalities of service and advanced spirit and mixology. The classes are hands-on and provide opportunities for students to learn on site, in restaurants and bars. When our non-profit restaurant and training center COLORS fully opens we will offer more classes like Barista training, Kitchen Management, and others.
We understand that many restaurant workers are parents, just like workers of other industries. But unlike most of those industries, restaurant workers face a unique challenge: access to evening and weekend childcare. Work in this industry is anything but 9-5 and in fact, many people are starting work around 5 pm. Evenings and weekends are the busiest times in a restaurant and many places require you to work these shifts. That can put a strain on parents to find childcare during those times. ROC is launching an app where parents in the industry can swap care with each other for free. It's a community of parents and restaurant workers at your fingertips where you can go to request care, provide care, learn about industry meet-ups, play dates with other parents, and more. It truly does take a village to raise a child and that is why we created ROC: The Village.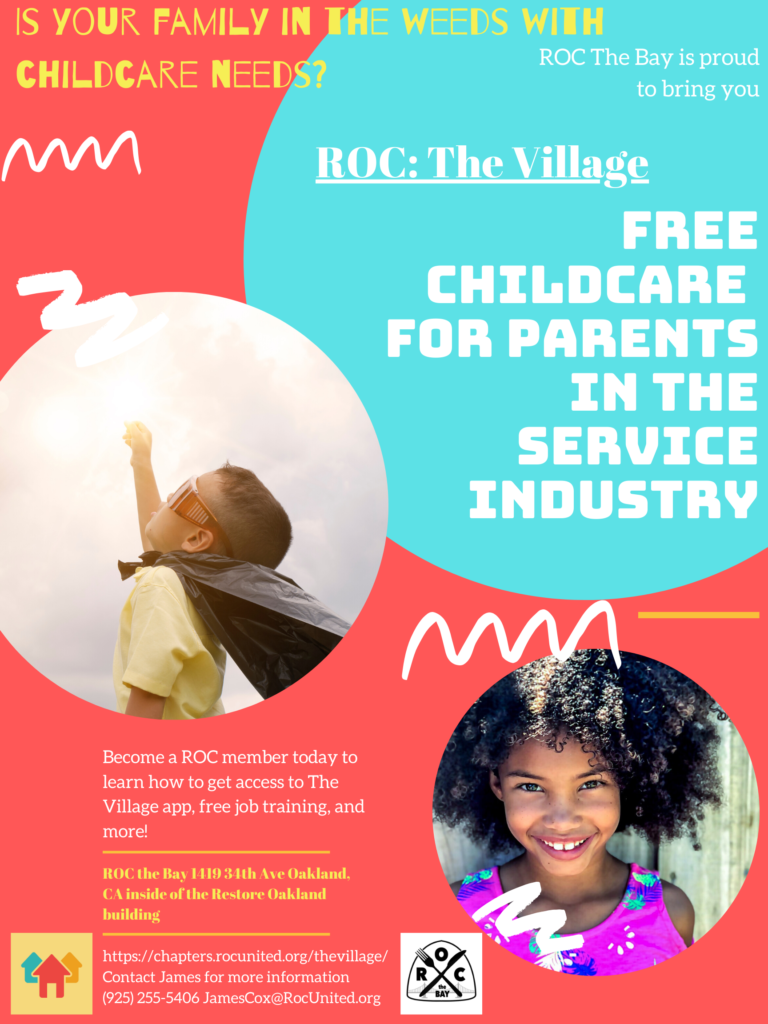 In an effort to equip management with the skills and tools needed to support restaurants in taking a stand on racial equity and better industry standards, ROC has created a Racial Equity Toolkit that is a simple and straightforward resource for assessing, planning, and implementing steps toward racial equity at your business.
There is no small step: Identifying your implicit biases, hiring and promoting immigrants and people of color through our CHOW classes, becoming an official RAISE or High Road Employer, and every action you take helps your business thrive and fosters stronger local relationships with your workers and consumers.
Our ultimate goal is to ensure that restaurants fully utilize and reward the skills that all workers bring to their workplace, as well as bolster the success of the business for both owners and patrons.
Restore Oakland and COLORS
ROC and the Ella Baker Center for Human Rights opened Restore Oakland in Fruitvale in 2019. Restore Oakland is a community advocacy and training center that will equip Bay Area residents with the tools they need to make a secure economic future possible for themselves. The building is also home to our restaurant, COLORS, which will offer hands-on job training for CHOW students and access to livable wage jobs in the restaurant industry for communities of color. COLORS will be an innovative restaurant that will serve our workers, our customers and our community by offering dignified jobs along with delicious food and quality service.
ROC the Bay and Legal Aid at Work (LAW) invite you to participate in the following campaigns: Sexual Harassment, Sanctuary Restaurant Trainings (Know Your Rights and ICE prep), & Racial Equity Toolkit offering.