Support the Restaurant Workers Bill of Rights!
Restaurant Workers Bill of Rights
Support the Bill. Ask your congressional representatives to sign on.
Click Here
Restaurant workers deserve:
• A thriving life
• Healing and rest
• A safe and dignified work environment
• Healthcare and bodily autonomy, and
• Participation in governance
Learn more
This fight is our fight.
Living wages. Better working conditions. Racial and gender equity. Safe, fair and healthy workplace.
Click Here
Founded after September 11, 2001, by restaurant workers displaced from the World Trade Center, Restaurant Opportunities Centers (ROC) United has grown into a national organization dedicated to achieving economic stability and thriving futures for people working in the restaurant industry. ROC United is the country's oldest and largest restaurant workers-led organization that works to improve restaurant workers' lives by building worker power and uniting workers of various backgrounds around shared goals and values.
Over 14 million people count on restaurant jobs to support their families. Yet, this massive workforce struggles with the lowest wages nationwide, wage theft, sexism and racism, and unsafe, harmful working conditions. Restaurant workers are two and a half times more likely to live in poverty than the general workforce. ROC United builds the power of people working in the restaurant industry to advocate for livable wages and workplaces that are fair, safe, inclusive and accessible, pathways for advancement, and equitable benefits. Our growing, diverse membership of 65,000 workers are women, people of color, immigrants, and members of the LGBTQIA community. We train and develop the leadership of our members to advocate for systemic change in their workplaces and public policy. ROC United is working toward achieving an ambitious goal of engaging 20% of the nation's restaurant workforce by 2030.  
DEI Commitment Statement
Our commitment to diversity, equity and inclusion across race, gender, sexual orientation, age, religion, language, identity, physical or mental ability, ethnicity, perspective and experience is in our DNA. It drives us forward every day to create an environment where workers from any background and culture are safe, healthy and empowered, get their voices heard, feel welcomed, supported and valued, and are given the same opportunities.
"I DESERVE
THE RIGHT
TO CHOOSE."
Banning abortion rights, which would immediately take effect in at least 13 states that are mostly in the South and Midwest, will surely devastate underserved communities, including restaurant workers who earn low wages and struggle with the lack of proper health care.
As procedural rules are being used to stymie policies that hardworking families need and attempt to obliterate our constitutional rights, we can't afford to just stand by and cease from taking actions.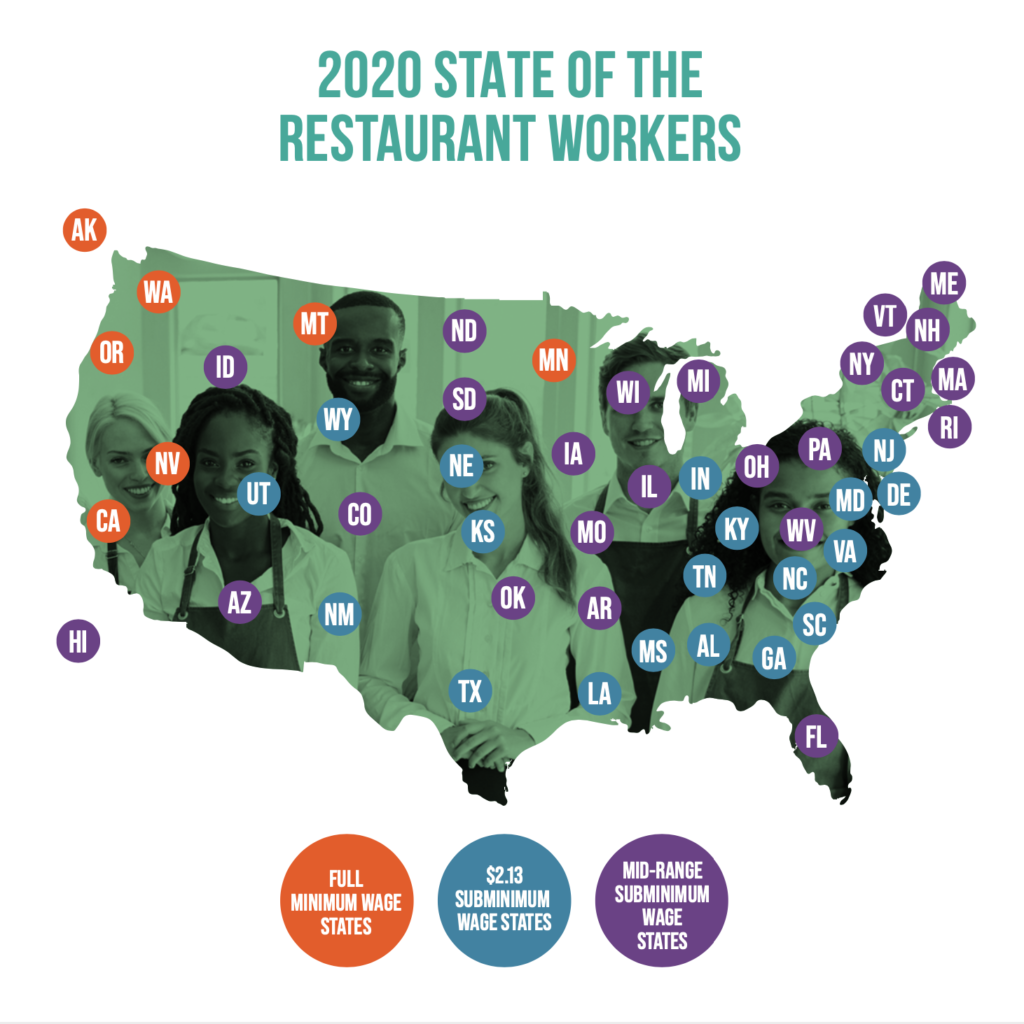 There are almost 14 million restaurant workers in the U.S.
Women comprise a majority of the industry
The median wage for a restaurant worker in the U.S. is $11.65 per hour.
Servers are overwhelmingly women
Latinx workers are the most represented racial/ethnic group in the restaurant industry
Over 1/5 of restaurant workers are immigrants
More than half of the mothers in the restaurant industry are single mothers
Restaurant workers are more than twice as likely to be in poverty than the general workforce

*ROC 2020 SORW FACT SHEETS
CELEBRATING WOMEN IN THE RESTAURANT INDUSTRY
Restaurant workers—the majority of whom are women, immigrants and disproportionately workers of color—continue to bear the brunt of the pandemic. The findings in this nationwide survey of over 1,000 restaurant workers validate the severe effects of the pandemic on restaurant workers' lives, and help explain why restaurants continue to struggle with staffing as the economy reopens. The survey was initially conducted in the fall of 2020, with a follow-up survey in late 2021. The complete findings of the survey will be released on February 10, 2022.
RESTAURANT WORKERS BILL OF RIGHTS
By Labor Day 2022, ROC United plans to introduce the first Restaurant Workers Bill of Rights, accompanied by model local, state, and federal legislation that policymakers can introduce in their own communities and in the U.S. Congress.
Restaurant Workers Bill of Rights is a comprehensive policy framework that we will champion at local, state, and national level. The Bill will systematically address challenges, injustices, and discrimination that restaurant workers, especially BIPOC and women, face every day.
We plan on a robust, 50-state, six-month long outreach to our 65,000+ members, other restaurant workers, organizations active in workers' rights and labor movement, and people who have an interest in working towards an equitable, just, healthy, and prosperous society.
The Restaurant Workers Bill of Rights will ensure that we have a collective and comprehensive view of economic, political and social issues that matter to restaurant workers and the restaurant industry. Provide your input to help us, accurately and holistically, address policies and related circumstances.
IN THE FRONT AND
BACK OF THE HOUSE
Looking for a local chapter?​
Demand a Better, Safer Workplace.
Want to organize for better working conditions at your restaurant?
Dr. Sekou Siby shares his own 9/11 experience as one of these workers, and is joined by Alexandra Délano, Assistant Professor of Global Studies at the New School, and Benjamin Nienass, Associate Professor of Political Science and Law at Montclair State University, to highlight the stories of undocumented immigrants who died on 9/11, while discussing the complex legal processes of proving their existence and ensuring they would not be forgotten.
Former and current workers at Blaze Pizza in Stadium Village held a press conference to celebrate an anticipated settlement of over $28,000 in unpaid wages and liquidated damages. The anticipated settlement on behalf of workers is between the Minneapolis Department of Civil Rights and former owners of Blaze Pizza in Stadium Village. 
Deputy Secretary of Labor Julie Su discusses the gender pay gap on Equal Pay Day for Latinas.
To mark the 20th anniversary of 9/11, Windows on the World survivors will share their reflections on what they experienced then and what it means to them today in the time of pandemic.
paid leave policy for all
A national paid leave policy is long overdue in the United States. We now have a once-in-a-generation opportunity to pass a national paid family and medical leave policy that would lift up all American workers and families.