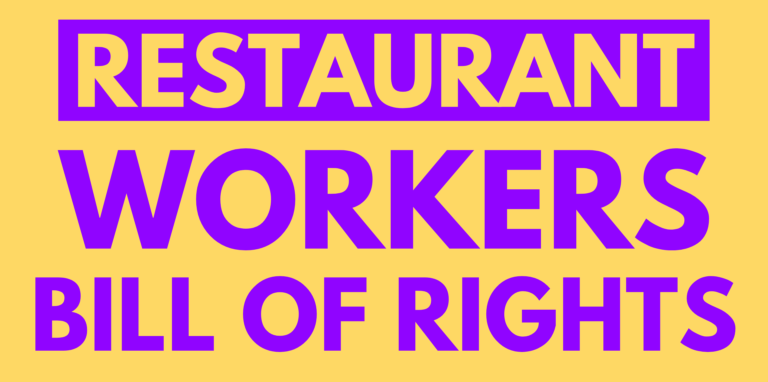 At the first State of the Restaurant Workers event on March 1, 2022 in Washington DC, we announced a plan to engage in a robust, 50-state, 6-month long outreach to our 65,000+ members, other restaurant workers, organizations active in workers' rights and labor movement, and all people who have an interest in working towards an equitable, just, healthy, and prosperous society.
Our intention is to compile a worker-led assessment of the needs of workers in our food service industry network around the country to then give ROC United (workers, allies, staff) an advocacy North Star for the coming years. The Bill of Rights will be an evolving piece being adapted and revised as needed to address new needs/stronger protections for our industry.
In the process of creating the Restaurant Workers Bill of Rights, we are also building a national movement of restaurant workers from front and back of the house, their families, and organizations in support of a just, healthy, safe, democratic, and prosperous society. By doing outreach and education, and providing the space to identify the issue areas and create a path to better rights, benefits, safety training, workforce development, and material equipment 
By Labor Day 2022, ROC worker leaders plan to introduce the first Restaurant Workers Bill of Rights accompanied by model local, state, and federal legislation that policymakers can introduce in their own communities and in the U.S. Congress.
Have your voice included in the Restaurant Workers Bill of Rights!
¡Incluya su voz en la Declaración de Derechos de los Trabajadores de Restaurantes!
Hear Directly From ROC Members & Lawmakers